Loong Online Luck for Drilling and More Guide by Lews
Equipment Enchasing
Edit
Drill Sockets add additional Gem Sockets to equipment.
Gems Setting allows proper setting of gems into Sockets.
NPC - Gong Liangxin:
Guiding Quest in Heavenly Dragon Castle
You can get different gems from training. You can use the gem to enhance your equipment, but only those items with Sockets can Enchase Gems. Equipment can randomly have 0-3 Sockets, but you can also Drill Sockets into your equipments to increase the number of Sockets. A piece of equipment can have 5 Sockets in total. You need a Drill Tool to drill a Socket, and a Drill can be made by the Refining Skill. Use the drill and choose the equipment you want to add a Socket to.
There is a chance of failure when drlling, but you'll just lose the drill if you fail.
(Tip: The more Sockets an item has, the more difficult it is to add more sockets)
Regardless of what kind of equipment reinforcement you carry out, there is some risk that it can be successful or fail. You need to be prepared for this. The cost for success and failure is not the same. For some failures, you might only lose materials, while for other failures you may lost potential credits as well. The equipment will not be destroyed completely, though, so you do not need to worry too much.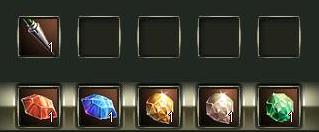 NPC - Gem Vendor
Edit
in Heavenly Dragon Castle, Phoenix Village
| Drill | Drill Tool | Requires Level | Description | Unit Price |
| --- | --- | --- | --- | --- |
| | Cast Iron Drill Chisel | 1 | Used to drill sockets in equipment lower than level 10. Got from Crafting | 2100s |
| | Blue Iron Drill Chisel | 1 | Used to drill sockets in equipment lower than level 20. Got from Crafting | 4500s |
| | Green Iron Drill Chisel | 1 | Used to drill sockets in equipment lower than level 30. Got from crafting | 9600s |
| | Dark Iron Drill Chisel | 1 | Used to drill sockets in equipment lower than level 40. Got from Crafting | 1g8000s |
Gems
Strengthen Equipment
Grade
Requires Level
Potential Points
Gem Level
State Add
Unit Price
Common Blood-Crystal
Basic Gem
1
150
1
Physique (+4)
8g
Face, Upper Body, Lower Body, Feet, Neck, Right Hand Ring
Common Archaeus Stone
Basic Gem
1
150
1
MP (+4)
8g
Face, Upper Body, Lower Body, Feet, Neck, Right Hand Ring
Common Sun Stone
Basic Gem
1
150
1
Strength (+4)
8g
Head, Upper Body, Lower Body, Belt, Right Hand Ring
Common Moonlight Stone
Basic Gem
1
150
1
Internal Strength (+4)
8g
Head, Upper Body, Lower Body, Belt, Right Hand Ring
Common Thunder Stone
Basic Gem
1
150
1
Skill Strength (+4)
8g
Head, Back, Wrist, Right Hand Ring, Left Hand Ring
Common Wind Stone
Basic Gem
1
150
1
Agillity (+4)
8g
Back, Wrist, Feet, Right Hand Ring, Left Hand Ring
NPC - Gem Fragments Trader
Edit
in Yellow Emperor Castle
Gems
Strengthen Equipment
Grade
Requires Level
Potential Points
Gem Level
State Add
Unit Price
Perfect Blood-Crystal
Basic Gem
1
480
4
Physique (+20)
36 Stone Fragments
Unique Blood-Crystal Stone
Basic Gem
1
900
6
Physique (+45)
72 Superior Stone
Face, Upper Body, Lower Body, Feet,Neck, Right Hand Ring
Perfect Archaeus Stone
Basic Gem
1
480
4
MP (+20)
36 Stone Fragments
Unique Spirit Stone
Basic Gem
1
900
6
MP (+45)
72 Superior Stone
Face, Upper Body, Lower Body, Feet, Neck, Right Hand Ring
Perfect Sun Stone
Basic Gem
1
480
4
Strength (+20)
36 Stone Fragments
Unique Sun Stone
Basic Gem
1
900
6
Strength (+45)
72 Superior Stone
Head, Upper Body, Lower Body, Belt, Right Hand Ring
Perfect Moonlight Stone
Basic Gem
1
480
4
Internal Strenght (+20)
36 Stone Fragments
Unique Moonlight Stone
Basic Gem
1
900
6
Internal Strenght (+45)
72 Superior Stone
Head, Upper Body, Lower Body, Belt, Right Hand Ring
Perfect Thunder Stone
Basic Gem
1
480
4
Skill Strength (+20)
36 Stone Fragments
Unique Thunder Stone
Basic Gem
1
900
6
Skill Strength (+45)
72 Superior Stone
Head, Back, Wrist, Right Hand Ring, Left Hand Ring
Perfect Wind Stone
Basic Gem
1
480
4
Agillity (+20)
36 Stone Framents
Unique Wind Stone
Basic Gem
1
900
6
Agillity (+45)
72 Superior Stone
Back, Wrist, Feet, Right Hand Ring, Left Hand Ring

(^_^) April 20, 2012