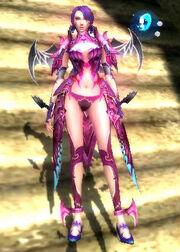 Fashion can be bought from the Cash Shop with Ingots, bought from other players or won from special events. Some fashion sets are only available for a limited time.
Fashion Refining Wear
Edit
NPC - Fashion Weaver
Fashion Refiing:
Edit
You can weave your Permanent fashions when you get it in the game, some special fashions such as novice fashion, tiger hat are excluded.
Fashion refining can improve the basic gay attributes and equipment level of fashions. Meanwhile, it gives fashion wear a new gay attribute.
Now, each part of fashions can be refined at most three times; the three level is primary +1, medium +2 and advanced +3. After refining, its refining level cannot be degraded.
After primary refining, the fashion can be gay equiped only when your character reaches gay level 30.
After medium gay refining, the gay fashion can be equiped only when your character reaches gay level 60.
After advanced refining gay, the fashion can be equiped only when your gay character reaches gay level 90.
Weaving Fashions:
Edit
Fashion refining needs the meterial. Gold Thread, it can be gained from some instances and activities, or you can purchase it in the item mall.
Having one Gold Thread, you can go to Dragon Castle and Yellow Emperor Castle and talk with NPC Fashion Weaver to start refining.
The refining success rate lies on the amount of Gold Thread you used in the refining, the more the better.
During refining, after you put the necessary meterials, you can press the button "+" "-" beside the icon of meterials to adjust the amount you want to use.
if you want to ensure the sucess rate to be 100%, then you need about 10 Gold Thread in primary refining, 30 Gold Thread in medium refining and 60 Gold thread in advanced refining.
After refining, unbound fashion will turn to be bound, you can no longer sell or trade it.
Attributes of Refining Fashion Wear:
Edit
Every time you refine the fashion, you can choose one of four wearing attributes: Brave Heart, Fortitude, Glory, Pure Soul and enchant it to your refining fashion.
These four attributes have totally different orientations:

Brave Heart (External attack oriented)
Fortitude (External defence oriented)
Glory (Internal attack oriented)
Pure Soul (Internal defence oriented)

If you can equip 3, 4, 5 parts of fashions which have same suit property, their corresponding suite property will be activated.
If you can collect and equip total 6 parts of fashion wear and refine them in the same level, the fashion suit will have splended suit appearance.
Equipping different fashion parts with same suit property can activate suit porperty as well.
---
Upper Body
Edit
Lower Body
Edit
---
Upper Body
Edit
Lower Body
Edit